Quick Links

Festival 2013
A warm welcome to the 7th edition of CMS VATAVARAN, the premier Environment and Wildlife Film Festival and Forum from India that is making a global impact, scheduled for 04-08 December 2013 in New Delhi.

Entries invited for 11 Indian and International CMS VATAVARAN coveted awards. Entry deadline is May 31, 2013. Prize money ranging from INR 50,000 to INR 1, 50,000 in Indian Categories.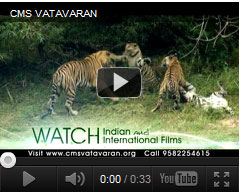 Announcement
Call for Entries

So you missed the regular entry deadline to submit your film! Now what?

Don't worry! You can probably still get your film in and be part of this international environment extravaganza. Rush your entries to this acclaimed and exciting film festival before May 31st, 2013

Call for Entries 2013
To Download Entry forms and Guidelines
entry form and entry guidelines

For Online Submission
Host CMS VATAVARAN Award Winning Film Screening at your campus:
Commemorating its decade long eventful journey, CMS VATAVARAN invites you to host Green Film Screenings at your campus. We encourage you to use film as a powerful tool to promote environmental responsibility among your friends, family, partners, colleagues and network.
For more information click here.